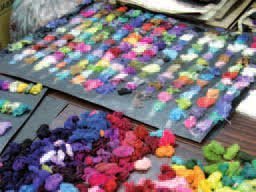 Immersed? You might ask really? how? First, let me explain what this type of immersion (contrary to my baptismal immersion in water on August 18, 2019), is according to Webster:
c : instruction based on extensive exposure to surroundings or conditions that are native or pertinent to the object of study

https://www.merriam-webster.com/dictionary/immersion
Did I set out to be immersed in Noro instruction today? Absolutely not! Serendipity aside, here's the story of my day.
First, I decided to knit a repeat on my Nightshift Shawl. It is being knit in Noro Iro, a 1 ply yarn that according to the label is minimally processed, never treated with acids or harmful chemicals. Noro yarn is gently spun to preserve original qualities and character. It seems only fitting that while I'm knitting on my Nightshift Shawl, admiring the colors shifts, the feel of the yarn, and pondering how Noro differs from other basic yarns I'm going to be designing with that I also listen to some podcasts, right? 
Sooooo, I turn on my podcast player and choose a designer interview with Vogue Knitting. That designer in Cornelia Tuttle Hamilton. What an interesting "maker" life she has led. But in the middle of that interview, she suddenly is talking about her life with Noro and a visit to the factory. What are the chances that I encounter a podcast episode where then-editor of Vogue Knitting editor Trisha Malcomb was interviewing Cornelia Tuttle Hamilton about her life in knitting and they discuss a segment about her experience with Noro yarns. I'm intrigued. What she said about Noro was exactly a lot of the reasons why I like to knit with it. Maybe you'd like to listen to the podcast too? 
And, since I'm knitting along, listening, I am reminded by a small pamphlet I received in my box that talks about Mr. Noro, the way they make their yarns, along with their integrity to environmental considerations. I had to put my knitting down and go that little pamphlet in my piles on my desk. Lo and behold, it was written by none other than Cornielia Tuttle Hamilton. Hmmm. Fascinating! I'll share a link to the Noro, Behind the Scenes .pdf here in case you want to read it.
So, as I return to my job for the day, working on the lessons to be uploaded to the LK150 Get It Out of the Box Course and hit send on my email check-in to the LK150 Success Academy Founding Members, I am feeling a sense of full circle …. feeling, hearing, reading …. immersion into all that is Noro and I dream about a project I would like to do for the 2020 release of the Academy in none other than — tada — Noro! Have to sign off and get out the design notebook before it escapes me. 
Knitting Onward — Lea-Ann