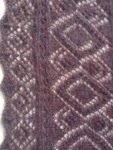 GIVEAWAY ALERT! Read to the bottom for details.
What do good friends do for you? I have friends who pray for me, and with me, and who encourage me when i'm down. I'm thankful for each and every one of my friends. Right now though, I have to give a shout out to a special friend who recognizes when i'm feeling blocked and overloaded and takes steps to help. How?
First, she comes in and makes me pull out all the projects? It took two tables!

Then she makes me make decisions! Scrap it? Okay, that's a relatively small number of projects scrapped. Only seven.
Then, return for others to enjoy until I can get to them on my list, then I can re-buy. That's eleven projects! I take that back, I walked around to the other side and there are three more = 14!
Which leaves us with "the list". And this …
Then … look at the list!. There are twenty-eight lines on "the list", only three of which do not count. That means I have twenty-five wip projects! Eek!
I knew I had too many, but really? These are projects I need to finish or want to finish, and well, wow! [note to self, remember this count does not include the boxes in the kitchen area that we put away last time we did a sort through — she's going to be merciless with those!]
Thanks so much, Lisa! And you know the best part? Last night before going home, we identified two things to work on.
1. Block the Miralda's shawl — text at 7 this morning "put the book away and block the shawl". Reading fluff is my escape. Yes, I got up and blocked the shawl sans blocking wires which are at MIA. We have six skeins of this yarn, Domy Heather, I'll be putting on a private sale. It's squishy, heathery and woolly and I love it! I don't want to pass it along, but the good news is I found a source and can get more!!!!
2. Socks – deadline Saturday for class. One inch per day. Pictures later since I left that project home while I do my paperwork on my day off.
So, there is a little insight into what it is like as the yarn store owner. Start the next project, put it down, start the next project, put it down, ad nauseum. What are your projects? Can you beat my number? What's your plan of attack? I had the top ten list a while back. I have two organizers, ten bins and will use those to have everything at hand, as soon as I get over the shock of having 25 current wip! Oh my!
Comment here or on Facebook for a chance to win a hank of Domy Heather, the yarn I used on the shawl, choice of one of four colors. We'll draw a random name next wednesday.
Tell me:
1. how many wip,
2. what is your top three,
3. and your plan…