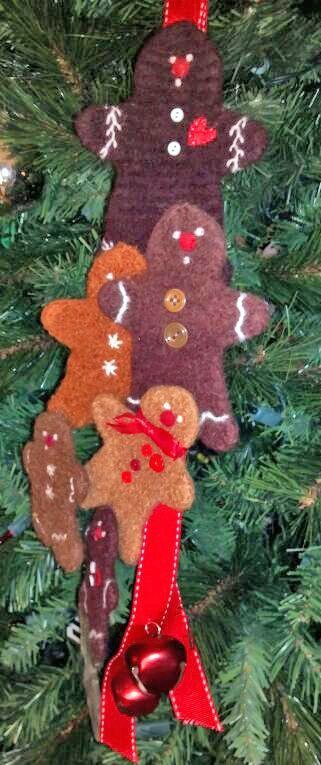 Clue: Pulling our treats out of the oven to cool! Waiting for our ????  to brew (to make it easier, Lea-Ann is editing this post to say "Steep", sorry Tara)! You are looking for the page that has the pictures from this blog post on it and that page has to do with the ???? mentioned– send us the link to that page.
Today's photo features the Woolly Gingerbread Cookie.  Shown here, Marie strung the gingerbread men on a satin ribbon with a doorknob jingle.
Gingerbread Men: Forget the fat and calories with these too sweet gingerbread men. Two sizes that are fun to make and decorate. What cute package tie-ons these guys would make with your favorite Gingerbread Cookie Mix in a Jar! This is a cute, easy project to knit out of 100% wool and felt.  Use up your odds and ends or choose from the many fun colors of Shepherd's Wool fingering and worsted.  Buy some cute buttons and thread to add the icing! Such a cute design by Marie Mayhew!
Using the clue above, find the product image in our website at https://knittingtoday.com, and email customerservice@knittingtoday.com with the location you find.  (Note: the search feature will get you part way there, you have to dig into the projects to find the photos). Once we receive your email, you'll be entered in the drawing to be held on December 19 for three Woolly Marie Mayhew patterns or projects (up to $30 value).  Come back tomorrow after 9am EST for the next clue and project idea.
And, I'll close with a picture of some real cookies from my daughter-in-law and grandson.