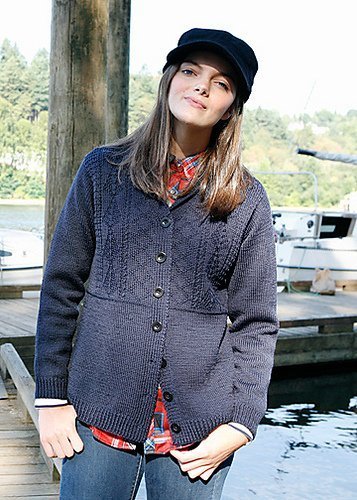 It is Sweater Weather!
Are you ready to knit? When I have to turn on the heat and pull out my wool socks, its a sign that it is sweater weather. My favorite go to cardigan is getting a little wear around the cuffs, and I lost a button, so its time to knit another one because who wants to darn sleeve cuffs, right? Am I right? Here's the scoop on the Fisher Lassie KAL/Course coming soon:
The Pattern: Fisher Lassie
Fisher Lassie is a cardigan version of the gansey sweater often worn by the 19th century fishermen of British coastline communities. It features the distinctive stitch patterning of that era but incorporates modern styling, fit and techniques. Bonne Marie from Chic Knits is one of my favorite designers and Fisher Lassie will be a fun hand knit to while away some hours binge watching Longmire. The pattern is well written, but I'll be posting some hints and tips in our classroom at clubKnit.KnittingToday.com for those who want to knitalong with me. I always like to learn something new and the construction on this one is unique. It is top down, starting at the right front, followed by the left front. Then the Back section is picked up across their shoulder linesand worked to the underarm where they are joined and worked as one to the hem. The sleeves are knit top down as well. The shawl collar makes it a cozy feel around the neck. As usual, what makes working with me is we make sure:
the shoulder width fits
the armhole is the correct depth
the sleeves are not too long
additional techniques we'll be covering are:
choosing a size based on your gauge
what to do if your row gauge doesn't match (AVOID the monkey arms!)
reading a chart
There is more involved to make sure this project fits you spectacularly, but you get the gist! By the way, did I mention the class is free with yarn purchase??? Awesome-sauce!
The Yarn: Stonehedge Fiber Mills Superwash
This new-to-us yarn from Stonehedge has a nice crisp hand and is perfect for the gansey styling. It is a superwash, so it is not as soft and pilly as their Shepherd's Wool, yet it is said to retain the warmth. I'm really looking forward to working with it. I've chosen basic colors to list for this project kit, but if you want to order full bags of any of their other colors, let me know.
Order Deadline and Start Date
Lets take orders until October 20, 2016. That should give us time to get the yarn to you for a November 1 start date. I usually like to start a sweater on opening day of hunting, but we won't wait for this one.  Stay tuned! I'll send an email to the e-news list letting you all know when the ordering for Fisher Lassie has been opened up.
Knitting Today ENews
Sign up to find out when Fisher Lassie project pack is available for purchase, and be added to future enews.
Note: you can unsubscribe at any time.