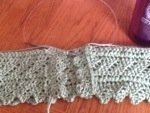 Uh oh! Do as I say not as I do!
1. Do a Gauge swatch – I didn't. I'm knitting looser than recommended, I think. The number of repeats for the size to fit Tara is actually two sizes smaller than its supposed to be. Now I have to do a gauge swatch to see how many stitches to pick up and knit upward.
2. Mark the RS. Uh oh, which side is the right side? And which will become the left front and right front?
3. Don't improvise and second guess a talented designer. Um, yes, you can't just remove a row in order to try and save restarting the yarn at the correct side of the knitting.
What lessons have you learned in the "do as I say not as I do" category?