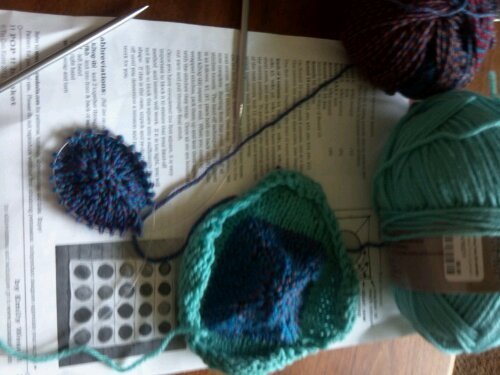 I need to record what I've done somewhere, so I remember how to do it again. Do you have to do that too?
This project is called !! POP !! By Emily Wessel  from http://www.tincanknits.com and it is such a cute design with interesting techniques. I named my Ravelry project: Two To Pop.  I did my first square though and wasn't happy with it. I think I lost track of my plain rounds which causes it to nipple (appropriate for a newborn baby blanket?) in the middle. The short rows were not coming intuitively and, in fact, I was wrapping them the wrong way which made it difficult to pick up the wraps. And the bind off is holey. What I do like is my yarn choice: Rhythm Superwash and Creative Focus Superwash (wish that it was not discontinued).
New starts:
slip knot cast on Lorna Miser taught at the recent class and Invisible Circular Cast on (from Cast On, Bind Off— a pre-order at Knitting Today or order through this link via Amazon)
counting ladders between stitches that Stephanie Pearl-Mcphee taught at recent class.
try Sweet tomato heel technique for short rows and knit back backward to save time
try bind off lorna used for a blanket she worked on while visiting and Elastic Bind off (from Cast On, Bind Off— a pre-order at Knitting Today)
P.S. Did I mention the blanket consists of 20 squares and I'll make two of them, plus a big one for my grandson? Eek!